Consulting
Having past experience with the FBI and Apple has prepared us to work alongside even the largest companies.

---
Audits

Is your tech stack running slower than it should? Are you following best practices? These are questions we have the answers to.

Code Review

Would you like our input on your system's code quality? We can review pull requests or existing code to find bottlenecks.

Instruction

Does your team need help on a new paradigm? We can be there to support them if they get stuck.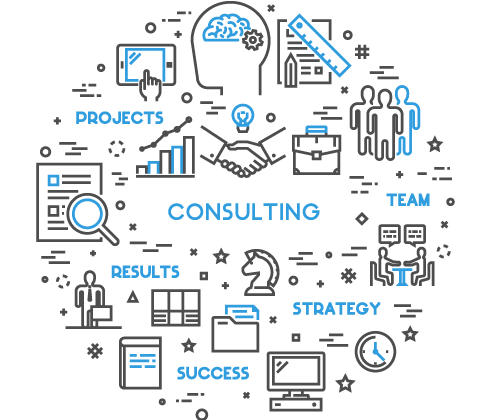 Why Us
We are partners in both growth and innovation.
Whether your company is on the cutting edge of technology or designing a basic system to support a new business, we have the expertise to help you identify, design, implement, and maintain the perfect technology solutions for you.
We'll work with you every step of the way to ensure that you are growing and innovating at the right pace for your company. We have the experience and passion to become an expert in your industry and guide you through the technical challenges toward success.
---
Technology and Business

We are experts at both a broad range of technology solutions and business fundamentals, making us the ideal partners for companies of every size.

Change Management

Massive tech overhauls. Built-from-scratch systems. State-of-the-art upgrades. We've done it all, and we'll make the process seamless and painless for you.

Comprehensive Analysis

We'll study your apps, infrastructure, platforms, design, and implementation, and we'll identify any signs of risk or areas for improvement.
A Broad Range of Expertise
With our decades of experience using a wide range of technologies, we are able to advise your company on several different levels.
---
Legal Compliance

We are well versed in technology laws and compliance regulations, and we are happy to guarantee that your company's policies are up to accepted standards.

Board of Directors

Our extensive Board experience allows us to perform due diligence and risk reporting as needed to ensure that your company is in good hands.

Speaking Engagements

We have extensive public speaking and presentation experience, and we can present our findings and expertise to groups of any size.
Don't take our word for it.
Our clients span multiple industries, including construction, healthcare, technology, and law, along with multiple government and federal agencies. We are happy to provide references based on our exceptional work; beyond simply providing short-term advice, we form long-term relationships with our clients.
We believe in our ability to provide you with immediate solutions to pressing concerns while also monitoring your technology's long-term health and effectiveness. Our experience is all the proof you need -- all you have to do is ask!
Life is full of problems and challenges. Let us help you get through it.