Receipt Defender
Expense tracking done right. Built to take the stress off accounting departments when it comes to reporting, employee reimbursements, and tax season.
---
Eliminate The Mess

Stop finding receipts in cabinets, drawers, wallets, and corners of the room. Receipt Defender keeps all your receipts in one place.

Preserve Receipt Quality

The print on receipts will fade over time. With Receipt Defender, you have all the important details in black and white, all the time.

Easily Categorize

Put the right receipts into the right group. Receipt Defender makes it easy to categorize to avoid confusion and to collate data more efficiently.

Use Spreadsheets Easily

Finding spreadsheets to be a pain to deal with? With Receipt Defender, they become a breeze.

Store Receipts Forever

People always lose their receipts — this is a fact. Receipt Defender will help you to never lose a receipt — ever again.

Seamlessly Manage Your Data

Searching for specific data? Categorizing your numbers? Receipt Defender allows you to do everything in a tap or two.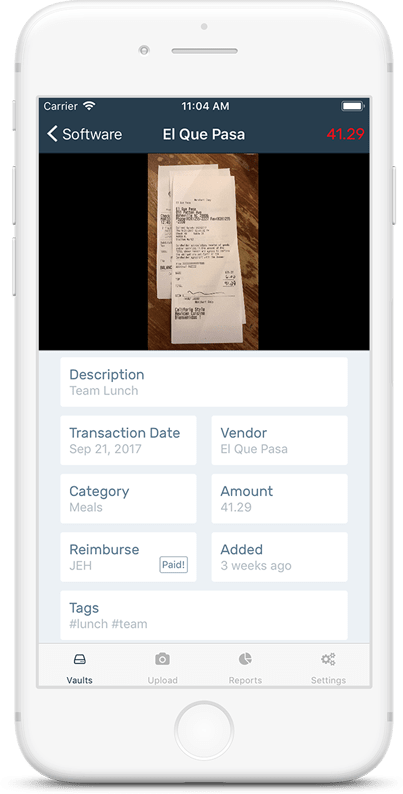 Top Features
Storing receipts is a snap. Literally. A quick snap of your phone's camera and most of the work has already been done for you.
Always on the go? You don't have to keep your receipts all over the place. Receipt Defender is available for both iPhone and Android, allowing you and your employees to report expenses the moment they happen. Reimbursements are a cinch, especially when done through our mobile app.
---
Effortless Expense Reports

Using Receipt Defender guarantees that you can have weekly, monthly, or yearly expense reports. You'll even be presented with charts and graphs based on what you've put into the system. The visual presentations will help you see your spending habits and adjust your finances as needed.

Expenses By Category

The app is user friendly because it lets you organize receipts in preset categories. To make things easier, you can also tag your expenses. When you need to find a receipt, you don't have to scan from page A to page Z. You need only search it by category or tag.

Tax and IRS Helper

Say goodbye to stressful tax seasons. With Receipt Defender, you'll have a tax helper that can organize and present your yearly expenses and receipts in an easy manner. Your accountant will thank you! The same goes for an IRS Audit. You can quickly look for a receipt or an expense report for the last seven years, as long as it's stored in the system.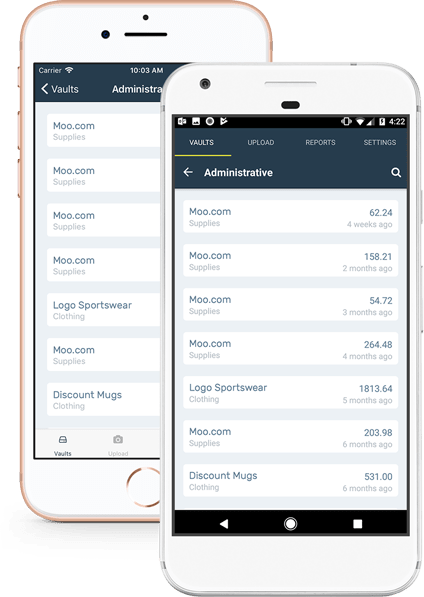 Sort and search your receipts anywhere with an easy-to-use mobile app.
Receipt Defender is a web and mobile app that stores business receipts. Its primary purpose is to help track your expenses and store your receipts. It also makes yearly expense reports for financial management and tax purposes.
When you use the app to get your receipts in order, everything is instantly searchable. You don't have to worry about losing receipts or having them fade over time. All you have to do is open the Receipt Defender app, search for the receipt you need, and you're ready to go.
---
Tracking your expenses has never been this simple or fast.
The process is ridiculously easy. When you receive a receipt, take a picture of it and enter it into the system. The app will organize the receipt for you, so whenever you need to find it again, simply look for it by category, year, or tag.
Receipt Defender makes the tax season stress-free. It generates yearly expense summaries that you can present to your accountant. It also enables you to create financial reports based on your spending habits.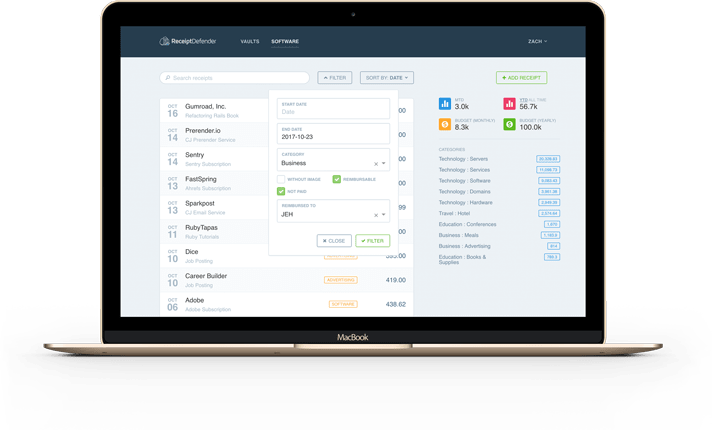 Pricing
Organizational clarity for all business sizes.
Receipt Defender offers three plans for businesses of all sizes (Freelancer, Small Business, and Enterprise). Each comes with a free 30-day trial, and plans start at just $10 per month. Customized plans are also available.
Reduce your receipt clutter swiftly and safely with Receipt Defender.